The Probate Process in Texas
Aug. 24, 2022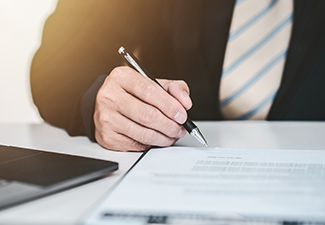 If you've gone through the estate planning process, or if you've recently been named the executor of a loved one's will, you've no doubt heard the term, "probate." Probate is an essential component of executing a will, and you'll need to understand what to expect from the process. When a loved one dies, their estate must be managed, and it can often be helpful to work with an attorney who has experience moving wills through probate.
If you're in Colleyville, Texas, or anywhere in Tarrant County, and you'd like to know more about your role in the probate process, call me, Brooks P. Lynn, Attorney at Law. For over 25, I've been committed to serving my community by providing personalized legal counsel they can trust. Reach out today to set up a consultation.
Who Is Involved in the Process?
When someone dies, they hopefully have a will in place with a named executor. This person is responsible for administering the contents of the will according to the deceased's wishes. The executor (also called a personal representative or administrator) will also have to work with a judge that oversees the probate process. They may want to work with an estate planning attorney as well to ensure the will is executed correctly and to help navigate any issues that come up.
If someone dies without a will in place (known as dying intestate), a judge will appoint an administrator, and this is usually the surviving spouse or a close family member. If there is no one close in the family, they may choose to appoint an attorney, bank, or trust company to perform this duty. The court will also issue a Determination of Heirship that outlines which of the deceased's heirs are in line to inherit certain assets.
What Is the Probate Process in Texas?
Although the process of probate is similar across the country, each state makes its own laws regarding this process. It's important to understand how Texas law influences how probate is handled.
In general, if someone dies with only a will in place, their assets will have to move through probate. However, there are other methods of estate planning that can help bypass probate and allow your assets to transfer directly to your beneficiaries. This may be possible if you have a living trust, if you've named beneficiaries on a life insurance policy, or if you have jointly-owned property. In these cases, the court would not have to get involved.
If you are required to go through formal administration of the probate process, you must first start by filing an application with the courts to admit the will. This should be done in the county the deceased was living in. After this has been received, the court will then need to prove you're the legal executor through a hearing but must also give enough time for anyone who wishes to contest the will to come forward.
You'll then need to contact every beneficiary listed in the will, as well as any creditors, before you locate and inventory the assets of the deceased. Depending on the estate, you may also need to work with an appraiser. Once the assets have all been accounted for, you can then distribute them to the heirs, pay off creditors, pay outstanding taxes, and pay any legal fees. Administrators may choose to pay themselves for their time with the assets.
How Long Does the Process Take?
Probate can be a time-consuming process with the average procedure taking 9 to 12 months to complete. However, if the will is more complex, if the will cannot be located, or in situations where beneficiaries and heirs contest certain aspects of a will, it can take much longer.
On the other hand, there are some instances when the probate process can be much shorter if the total value of the estate is relatively small (sometimes referred to as a summary administration) or if there are no outstanding debts owed by the deceased. In these cases, probate may only take about six months.
There is currently no deadline for how long probate can go on, but in general, if it lasts longer than 15 months, the judge will likely ask the administrator to provide updated accounting documents to ensure it's still on track. All applications for probate must be filed within four years of the date of death.
Getting the Experienced Legal Support You Need
From my offices in Colleyville, Texas, I can help with any aspect of estate planning, from drafting new documents, updating existing plans, or assisting executors through the probate process. If you've recently lost someone close to you and are looking for a trusted partner to help you through this time and ensure their last wishes are honored, I can help. Call me, Brooks P. Lynn, Attorney at Law, today to get started.