Wills vs. Trusts: Which One Is Right for You?
Jan. 24, 2023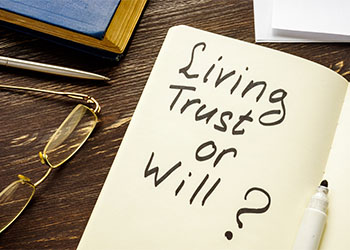 Estate planning is one of those things you don't want to put off. Most folks think they can always write their will some other day, especially when they are young. However, there is no better time than today to plan your estate.
However, with estate planning comes a lot of questions. One of those questions is deciding whether creating a will or a trust is best for your particular circumstances. Reach out to my firm today, and I will walk you through the essentials of wills and trusts so you can choose the best option for you. From my office in Colleyville, Texas, I also serve those throughout Tarrant County. Call me today for guidance.
What Is a Will?
When most people think of a will, they think about deciding who gets what after their passing. However, a will is much more than an instruction for asset distribution. A will can contain specific provisions about end-of-life decisions, funeral plans, and burial details. Wills can also name who gets to make end-of-life decisions in case of terminal illness or incapacitation.
There are various types of wills. Let's take a closer look:
A simple will consists of general instructions regarding asset distribution, funeral instructions, and guardianship for minor children. As the name suggests, this document is a simple letter containing specifications about what to do following your passing. An estate planning attorney is not necessary for a simple will though it is highly recommended to contact one.

A testamentary trust will place some or all of your assets into a trust until certain conditions are met. For example, folks with minor children can place their assets into a trust until their children come of age. Please note that conditions can be anything you decide, such as getting married, having children, or achieving specific conditions (for example, graduating from college).

A joint will refers to a document representing two or more people. Joint wills are common among spouses, though anyone with shared interests can draft a joint will. Siblings, business partners, or close friends are some examples of possible creators of joint wills.

A living will focuses specifically on end-of-life decisions, medical treatments, and advanced healthcare directives. These provisions seek to reduce medical bills or debts.
Please note that an estate planning attorney is not necessary for drafting a will. However, it is recommended to seek professional legal counsel. There may be considerations based on an attorney's experience that can improve the quality of your will and protect your loved ones from possible pitfalls.
What Is a Trust?
A trust is a document that places assets into a special arrangement in which ownership is transferred after specific conditions are met. For example, a house is transferred into a trust with specific conditions that must be met for ownership transfer to take place. Conditions may require beneficiaries to meet specific criteria (such as age) before officially receiving ownership transfer.
In the meantime, the property or assets are managed by a trustee. A trustee is a person or organization that looks after the assets until the beneficiaries are eligible to take control of the property in the trust.
There are four main types of trusts:
A living trust is formed by the grantor (owner) during their lifetime.

A testamentary trust is formed after the grantor's death. The grantor can designate an individual, such as an attorney, to supervise the formation of a testamentary trust.

Revocable trusts refer to trusts that can be changed or revoked by the grantor.

Irrevocable trusts refer to trusts that cannot be modified or revoked in any way once they have been created.
Please note that you are not legally required to have an attorney to form a trust. However, given the complexity behind a trust, it is advisable to get professional legal counsel from an experienced estate planning attorney before forming a trust.
Wills Vs. Trusts: Which One Is the Best Option?
Wills offer the following advantages:
They are simple to create.

They don't require complex legal terminology.

They're valid from the moment the document is signed.

They protect loved ones after the grantor's passing.

They ensure the grantor's wishes are followed.
Trusts also offer the following advantages:
They are private documents not open to legal challenges in probate court.

The grantor retains rights over the property despite not legally owning it.

Grantors can choose their administrators.

Grantors can protect their loved ones under any type of circumstances.

Conditions can be set up to reflect specific situations or circumstances.
Ultimately, choosing the right option for you boils down to your specific preferences. A simple will is a great option if you prefer drafting a simple document to give you peace of mind. Nevertheless, there are some things to keep in mind:
Wills must go through probate. The probate process can open the door to legal challenges.

Also, ownership transfer by way of a will may lead to inheritance and transfer taxes.

Wills are public documents. In contrast, trusts are private, so information regarding trusts does not need to be disclosed.

Trusts require an administrator. Naming an administrator may represent an additional cost to the estate.
Please note that drafting a will or a trust is much better than dying intestate (without a will). Dying intestate means the court decides who gets what following your passing. As a result, the probate process can become expensive and time-consuming. So, it is always best to plan your estate as soon as possible to give you the peace of mind you need.
When Is the Best Time to Plan Your Estate?
No matter where you are in life, the best time to plan your estate is today. Leaving your estate planning till tomorrow may be one day too late. Talking to an experienced estate planning attorney can help you determine which options are best for your circumstances. So, if you are in Colleyville or Tarrant County, Texas, take steps to protect your tomorrow, and reach out today.